VT-4300 Vette Series Booth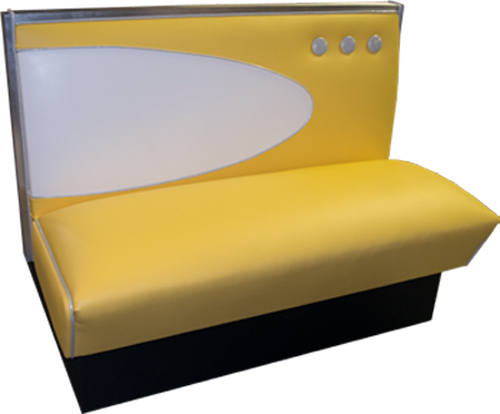 Click on images for a larger view.
VT-4300 Features:
Vette Series Booth - The VT-4300 is a fully upholstered booth featuring a 18" seat height and a 36" overall height back with custom classic car inside back design with a classic high baseboard design. Modular construction allows easy replacement of end caps, seats and backs. The lower baseboard is solid pine board covered with heavy duty, scuff resistant vinyl as a standard or laminated as an option.
This booth is offered with two colors of upholstery in the same grade at no extra charge.
* Shown with optional accent piping (add 3%).
VT-4300 Pricing and Specifications:
| | | | | | | | |
| --- | --- | --- | --- | --- | --- | --- | --- |
| Options | Grade 1 | Grade 2 | Grade 3 | Grade 4 | Grade 5 | Wt. | Dimensions |
| Single | $1,375.06 | $1,423.19 | $1,473.00 | $1,524.56 | $1,577.93 | 110 lbs. | 24"D x 44"W x 36"H |
| Double | $2,062.59 | $2,134.80 | $2,209.50 | $2,286.86 | $2,366.89 | 150 lbs. | 45"D x 44"W x 36"H |
(Click on Grade above for color selection)
| | |
| --- | --- |
| 30" length..... | deduct 10% |
| 48" length..... | add 5% |
| 60" length..... | add 30% |
Click Here to View the Bench Options
Click Here to View the Booth Seating Options