MB2-4300 Malibu II Series Booth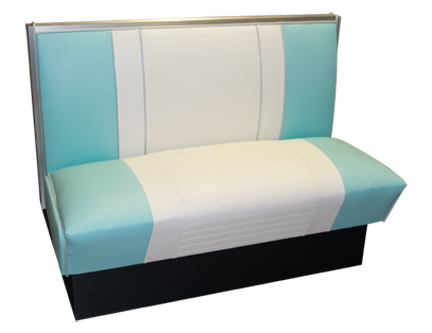 Click on images for a larger view.
MB2-4300 Features:
Malibu II Series Booth - The MB2-4300 is a fully upholstered booth featuring a 18" seat height and a 36" overall height back with a roll and pleat tufted back insert and seat. Modular construction allows easy replacement of end caps, seats and backs. The lower baseboard is solid pine board covered with heavy duty, scuff resistant vinyl as a standard or laminated as an option.
This booth is offered with two colors of upholstery in the same grade at no extra charge.
* Refer to Seaquest card (Grade 4) for available tufted colors.
MB2-4300 Pricing and Specifications:
| | | | | | | | | |
| --- | --- | --- | --- | --- | --- | --- | --- | --- |
| Options | Grade 1 | Grade 2 | Grade 3 | Grade 4 | Grade 5 | Grade 8 | Wt. | Dimensions |
| Single | $1,155.85 | $1,196.31 | $1,238.18 | $1,281.52 | $1,326.38 | $1,445.76 | 110 lbs. | 24"D x 44"W x 36"H |
| Double | $1,733.78 | $1,794.47 | $1,857.27 | $1,922.28 | $1,989.57 | $2,168.64 | 150 lbs. | 45"D x 44"W x 36"H |
| Wall Booth/ft. | $339.96 | $351.85 | $364.17 | $376.91 | $390.11 | $425.22 | 35 lbs. | n/a |
| 1/4 Circle | $3,037.55 | $3,132.74 | $3,231.25 | $3,333.23 | $3,438.77 | $3,748.26 | 210 lbs. | 44" x 44" |
| 1/2 Circle | $5,735.16 | $5,913.62 | $6,098.35 | $6,289.54 | $6,487.43 | $7,071.30 | 410 lbs. | 44" x 84" x 44" |
| 3/4 Circle | $8,432.74 | $8,694.53 | $8,965.44 | $9,245.85 | $9,536.08 | $10,394.33 | 575 lbs. | 44" x 84" x 84" x 44" |
| Out Side Back/ft. | $39.63 | $41.03 | $42.47 | $43.96 | $45.49 | $49.59 | n/a | n/a |
(Click on Grade above for color selection)
| | |
| --- | --- |
| 30" length..... | deduct 10% |
| 48" length..... | add 5% |
| 60" length..... | add 30% |
Click Here to View the Bench Options
Click Here to View the Booth Seating Options