HZ-1 Horizon Series Booth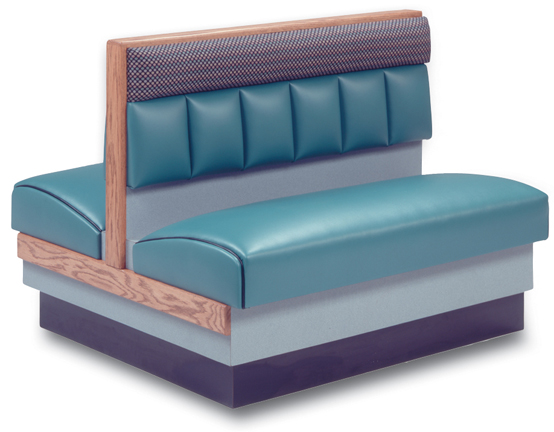 Click on image for a larger view.
(Shown as a Double Style above)
HZ-1 Features:
Horizon Series Booth - The HZ-1 has a unique design that offers removable component parts (including head roll, lower channel back and seat) which can be replaced or reupholstered. This model features a standard solid Oak top cap. end panel, side panel and sub-base panel with rounded edges and laminated crumb tray These benches have a 35-1/2" overall height and a 18" seat height. Modular construction allows easy replacement of end caps, seats and backs. The baseboard is solid pine board covered with heavy duty, scuff resistant vinyl as a standard or laminated as an option.
Circle Booths only offered with Mitered Corners.
Standard wood trim is finished on one side only. For finished on 2 sides add $111.30 to the below single and $166.95 to double prices.
HZ-1 Pricing and Specifications:
| | | | | | | | |
| --- | --- | --- | --- | --- | --- | --- | --- |
| Options | Grade 1 | Grade 2 | Grade 3 | Grade 4 | Grade 5 | Wt. | Dimensions |
| Single | $1,344.74 | $1,391.79 | $1,440.50 | $1,490.92 | $1,543.10 | 185 lbs. | 24"D x 44"W x 35.5"H |
| Double | $2,017.06 | $2,087.67 | $2,160.72 | $2,236.36 | $2,314.63 | 240 lbs. | 45"D x 44"W x 35.5"H |
| Wall Booth/ft. | $424.09 | $438.93 | $454.30 | $470.19 | $486.65 | 46 lbs. | n/a |
(Click on Grade above for color selection)
| | |
| --- | --- |
| 30" length..... | deduct 10% |
| 48" length..... | add 5% |
| 60" length..... | add 30% |