HZ-1 Horizon Series Booth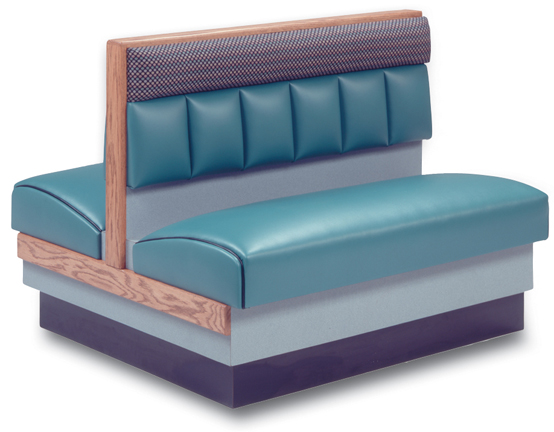 Click on image for a larger view.
HZ-1 Features:
Horizon Series Booth - The HZ-1 has a unique design that offers removable component parts (including headroll, lower channel back and seat) which can be replaced or reupholstered. This model features a standard solid Oak top cap. end panel, side panel and sub-base panel with rounded edges and laminated crumbtray These benches have a 35-1/2" overall height and a 18" seat height. Modular construction allows easy replacement of end caps, seats and backs. The baseboard is solid pine board covered with heavy duty, scuff resistant vinyl as a standard or laminated as an option.
Standard wood trim is finished on one side only. For finished on 2 sides add $81.54 to the below single and $122.31 to double prices.
HZ-1 Pricing and Specifications:
| | | | | | | | | |
| --- | --- | --- | --- | --- | --- | --- | --- | --- |
| Options | Grade 1 | Grade 2 | Grade 3 | Grade 4 | Grade 5 | Grade 8 | Wt. | Dimensions |
| Single | $985.18 | $1,019.65 | $1,055.34 | $1,092.28 | $1,130.51 | $1,232.26 | 185 lbs. | 24"D x 44"W x 35.5"H |
| Double | $1,477.74 | $1,529.47 | $1,582.99 | $1,638.41 | $1,695.75 | $1,848.37 | 240 lbs. | 45"D x 44"W x 35.5"H |
| Wall Booth/ft. | $310.70 | $321.57 | $332.83 | $344.47 | $356.53 | $388.62 | 46 lbs. | n/a |
| 1/4 Circle | $2,762.68 | $2,849.67 | $2,939.73 | $3,032.89 | $3,129.36 | $3,411.01 | 350 lbs. | 44" x 44" |
| 1/2 Circle | $5,214.65 | $5,377.43 | $5,546.60 | $5,721.33 | $5,902.20 | $6,433.40 | 690 lbs. | 44" x 84" x 44" |
| 3/4 Circle | $7,666.64 | $7,905.88 | $8,153.48 | $8,409.76 | $8,675.01 | $9,455.77 | 1012 lbs. | 44" x 84" x 84" x 44" |
| Out Side Back/ft. | $41.45 | $44.32 | $47.19 | $50.07 | $52.95 | $57.72 | n/a | n/a |
(Click on Grade above for color selection)
| | |
| --- | --- |
| 30" length..... | deduct 10% |
| 48" length..... | add 5% |
| 60" length..... | add 30% |