FN-1 Fenton Series Booth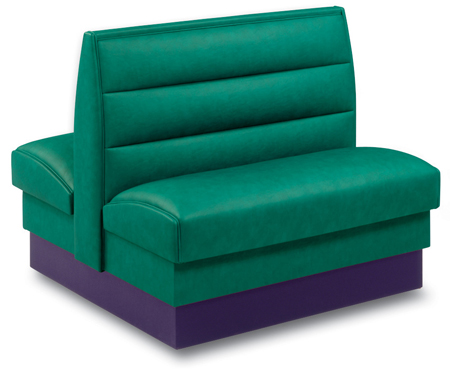 Click on images for larger views.
FN-1 Features:
Fenton Series Booth - The FN-1, in standard form represents a fully upholstered booth with an 18" seat height, featuring three horizontal panels with 6-1/2" centers and a 36" overall height back. A classic design with a two layered baseboard. Modular construction allows easy replacement of end caps, seats and backs. The lower baseboard is solid pine board covered with heavy duty, scuff resistant vinyl as a standard or laminated as an option.
FN-1 Pricing and Specifications:
| | | | | | | | |
| --- | --- | --- | --- | --- | --- | --- | --- |
| Options | Grade 1 | Grade 2 | Grade 3 | Grade 4 | Grade 5 | Wt. | Dimensions |
| Single | $1,200.12 | $1,242.13 | $1,285.59 | $1,330.59 | $1,377.16 | 110 lbs. | 24"D x 44"W x 36"H |
| Double | $1,800.16 | $1,863.19 | $1,928.40 | $1,995.89 | $2,065.76 | 150 lbs. | 45"D x 44"W x 36"H |
| Wall Booth/ft. | $352.42 | $364.77 | $377.55 | $390.76 | $404.44 | 35 lbs. | n/a |
| 1/4 Circle | $3,197.71 | $3,296.40 | $3,398.53 | $3,504.24 | $3,613.65 | 210 lbs. | 44" x 44" |
| 1/2 Circle | $6,043.01 | $6,228.04 | $6,419.54 | $6,617.75 | $6,822.89 | 410 lbs. | 44" x 84" x 44" |
| 3/4 Circle | $8,888.29 | $9,159.65 | $9,440.54 | $9,731.25 | $10,032.13 | 575 lbs. | 44" x 84" x 84" x 44" |
| Out Side Back/ft. | $47.16 | $48.81 | $50.53 | $52.30 | $54.12 | n/a | n/a |
(Click on Grade above for color selection)
| | |
| --- | --- |
| 30" length..... | deduct 10% |
| 48" length..... | add 5% |
| 60" length..... | add 30% |