CT-4300 Continental Series Booth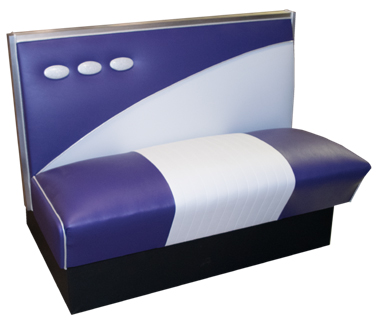 Click on images for a larger view.
CT-4300 Features:
Continental Series Booth - The CT-4300 is a fully upholstered booth featuring a 18" seat height and a 36" overall height back with custom "Continental" look with a classic high baseboard design. Modular construction allows easy replacement of end caps, seats and backs. The lower baseboard is solid pine board covered with heavy duty, scuff resistant vinyl as a standard or laminated as an option.
This booth is offered with two colors of upholstery in the same grade at no extra charge.
* Shown with optional accent piping (add 3%).
CT-4300 Pricing and Specifications:
| | | | | | | | | |
| --- | --- | --- | --- | --- | --- | --- | --- | --- |
| Options | Grade 1 | Grade 2 | Grade 3 | Grade 4 | Grade 5 | Grade 8 | Wt. | Dimensions |
| Single | $1,155.85 | $1,196.31 | $1,238.18 | $1,281.52 | $1,326.38 | $1,445.76 | 110 lbs. | 24"D x 44"W x 36"H |
| Double | $1,733.78 | $1,794.47 | $1,857.27 | $1,922.28 | $1,989.57 | $2,168.64 | 150 lbs. | 45"D x 44"W x 36"H |
| Wall Booth/ft. | $339.96 | $351.85 | $364.17 | $376.91 | $390.11 | $425.22 | 35 lbs. | n/a |
| 1/4 Circle | $3,037.55 | $3,132.74 | $3,231.25 | $3,333.23 | $3,438.77 | $3,748.26 | 210 lbs. | 44" x 44" |
| 1/2 Circle | $5,735.16 | $5,913.62 | $6,098.35 | $6,289.54 | $6,487.43 | $7,071.30 | 410 lbs. | 44" x 84" x 44" |
| 3/4 Circle | $8,432.74 | $8,694.53 | $8,965.44 | $9,245.85 | $9,536.08 | $10,394.33 | 575 lbs. | 44" x 84" x 84" x 44" |
| Out Side Back/ft. | $39.63 | $41.03 | $42.47 | $43.96 | $45.49 | $49.59 | n/a | n/a |
(Click on Grade above for color selection)
| | |
| --- | --- |
| 30" length..... | deduct 10% |
| 48" length..... | add 5% |
| 60" length..... | add 30% |
Click Here to View the Bench Options
Click Here to View the Booth Seating Options